Thumayriyah site (TH1)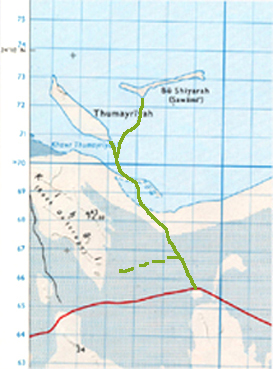 Adapted from 1:100,000 Sheet NG-39-168, 1988, United Arab Emirates
The eastern part of Thumayriyah. Photo Andrew Hill.
TH1 (N 24 09' 25.1" E 53 00' 32.6")
Thumayriyah is a long, about 3 kilometres, and narrow island now linked to the mainland by a man-made dirt causeway built since 1988 (green on map). This passes, to the west, a track (dotted green) leading towards the sites of Kihal and Ras al Qal'ah. There is no direction sign to Thumayriyah from the main Abu Dhabi to Jebel Dhanna road probably because the residence built upon it belongs to a UAE government official. It is private property entry to which is restricted. After passing through the lodge/security point to the property, the road becomes lined with street lamps. The property itself occupies the southern part of the jebel and on its eastern side well-preserved suid material was collected in 1989/1990 (Bishop and Hill, 1999). Its northernwestern most point has well-developed sea cliff exposures some 30 metres in height of the Baynunah and Shuwaihat Formations. Another track just before the security post, passes to the north along a narrow causeway (breached by the sea during storms in 1998) to the low lying island of Bu Shiyarah where only ?Holocene beach rock/reef exposures, bones of dugongs and abandoned fishing facilties have been found.


[ Fossil index - ADIAS home ]