| | |
| --- | --- |
| Ghagha | |
---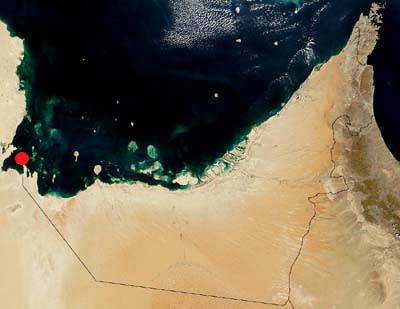 Location of Ghagha (Source: ADIAS)
---
Ghagha is one of Abu Dhabi's westernmost islands. It is located northwest of Ras Ghumays, the westernmost promontory in the Sila peninsulae. ADIAS visited the island between 1993 and 1995, when some 20 archaeological sites were identified. These ranged in date from a Neolithic site with stone tools belonging to the Arabian bifacial tradition; to a site with 'red-ridged ware' pottery, probably originating from Bahrain, dating to c. 2000-1700 BC; to several sites with late pre-Islamic pottery dating to the first-fourth centuries AD, which is comparable to material from al-Dur and Mileiha. Some sites also had traces of occupation dating to the last few centuries. Both local and Chinese pottery similar to that found at Julfar in the northern Emirates was also recovered.

---
Links

Ghagha (Source: A Walk Through Time - Uaeinteract.com)

Ghagha (Source: Uaeinteract.com)

---
Press

23 May 1999 - Trade links with Iraq go back to 7,000 years (Source: www.uaeinteract.com)

---
Publications

Carter, R. 2003. Tracing Bronze Age trade in the Arabian Gulf: Evidence for Way-stations of the Merchants of Dilmun between Bahrain and the Northern Emirates. In: D.T. Potts, H. Naboodah and P. Hellyer (eds.), Archaeology of the United Arab Emirates: Proceedings of the First International Conference on the Archaeology of the UAE. Trident Press Ltd., London. pp.123-131.
[ to purchase a copy of this book click here ].

King, G.R.D. and C. Tonghini. 1999. The Western Islands of Abu Dhabi Emirate - Notes on Ghagha. In: C.S. Phillips, D.T. Potts and S. Searight (eds.), Arabia and its Neighbours - Essays on Prehistorical and Historical Developments presented in honour of Beatrice de Cardi. Abiel II. Brepols. pp.117-142.
[ to download this article in Acrobat .pdf format click here (4.6 MB) ] .

King, G.R.D., D. Dunlop, J. Elders, S. Garfi, A.Stephenson, and C. Tonghini. 1995. A report on the Abu Dhabi Islands Archaeological Survey (1993-1994). Proceedings of the Seminar for Arabian Studies 25: 63-74.
[ to download this article in Acrobat .pdf format click here (838 Kb) ] .


---