---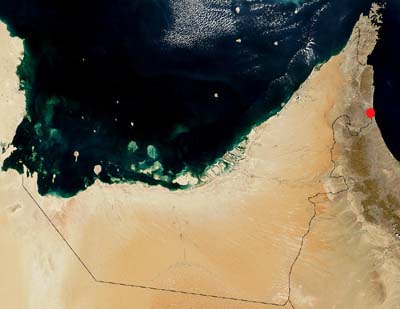 Location of Kalba (Source: ADIAS)


| | |
| --- | --- |
| | |
| View of part of the Kalba excavations (Photograph by Dr Mark Beech) | Mudbrick wall at Kalba (Photograph by Dr Mark Beech) |
| | |
| Khor Kalba - Gary Feulner searches for crabs (Photograph by Dr Mark Beech) | Terebralia palustris at Khor Kalba (Photograph by Dr Mark Beech) |
---
Links
Hisn Kalba (Kalba Fort) Museum (Sharjah Heritage Museum)

Kalba (Uaeinteract.com - A Walk Through Time)

Khor Kalba (Source: Arabian Wildlife)
---
Press

8 May 1999 - Ancent settlement unearthed in Kalba (Source: Uaeinteract.com)

17 May 2000 - Ancient settlement discovered in Kalba (Source: Uaeinteract.com)

31 March 2003 - Excavations begin at Khor Kalba (Source: Gulf News)

---
Publications

Aspinall, S., Böer, B., Ziolkowski, M., Hogarth, P. and Beech, M. 2002. Biosphere Reserve Study, Sharjah, UAE. Environment and Protected Areas Authority (EPAA), Government of Sharjah / UNESCO.

Carter, R.A. 1993. The Wadi Suq period in south-east Arabia: a reappraisal in the light of excavations at Kalba, UAE. Proceedings of the Seminar for Arabian Studies 27: 87-98.

Carter, R.A. 1997. Defining the Late Bronze Age in Southeast Arabia: ceramic evolution and settlement during the second millennium BC. Unpublished Phd thesis. Institute of Archaeology, University College London.

Mosseri-Marlio, C. 2003. The Rat Remains from Kalba. In: D.T. Potts, H. Naboodah and P. Hellyer (eds.), Proceedings of the First International Conference on the Archaeology of the United Arab Emirates (Abu Dhabi, 15-18 April 2001). Trident Press, London. pp. 309-315.

Phillips, C. S. and Mosseri-Marlio, C. E. 2002. Sustaining Change: The Emerging Picture of the Neolithic to Iron Age Subsistence Economy at Kalba, Sharjah Emirate, UAE. Pages 195-210. In: H. Buitenhuis, A.M. Choyke, M. Mashkour and A.H. Al-Shiyab, Archaeozoology of the Near East: Proceedings of the Fifth International Symposium on the Archaeozoology of Southwestern Asia and Adjacent Areas.


---