Jebel Mimiyah (Twin Peaks)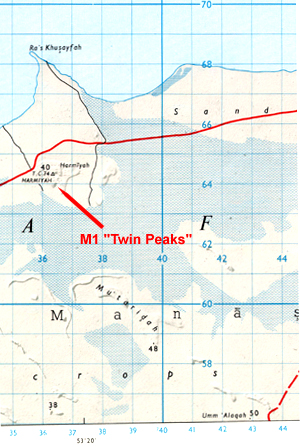 Adapted from 1:100,000 Sheet NG-39-168, 1988, United Arab Emirates
Site M1 (N 24 04' 58.2" E 53 26' 07.6")
is what remains of Jebel Mimiyah itself. Known to the NHM/Yale team as "Twin Peaks", this jebel has been bull-dozed for road building material. Parts of it are unsafe but fluvial sediments of the Baynunah river are beautifully exposed.
| | | | | |
| --- | --- | --- | --- | --- |
| | | | | |
| Twin Peaks - Jebel Mimiyah | | Di Clements examines river sands of the Baynunah Formation | | Hyaenidae. Incomplete right ulna. See Barry, 1999. |
| | | | | |
| | | | | |
| Beautifully varved Baynunah sands on clay. Below the fossiliferous gravels. | | Cross-bedded Baynunah gravels with vertebrates exposed on the southern face of the larger jebel. | | Pylons pass by Twin Peaks (1998) supplying electricity to a new desalination plant near Mirfa |
---
Site MQ (N 24 02' 18.6" E 53 27' 45.4")
was a shallow quarry on the south side of the road that could not be found in 1995 and had probably been filled. In the 1998 we believe that we had relocated this site - although it had changed dramatically. A track near to the Vegetable Canning factory at Mirfa (there are no signs of vegetables being grown in the area) leads southwards through a "village" comprising shacks and numerous small enclosures containing chicken, sheep and goats. Passing through this place and breasting a slight incline reveals an area that suggests it to have been a training ground for bull-dozer drivers. To the west of this area lies what we believe to be the remnants of site MQ now partly filled with rubbish and windblown sand. Many "hillocks" here suggest exposure of Miocene; in fact they were constructed by bull-dozers. Other "cuts" and hillocks are genuine Miocene exposures and a few bone fragments were found in 1998.


[ Fossil index - ADIAS home ]